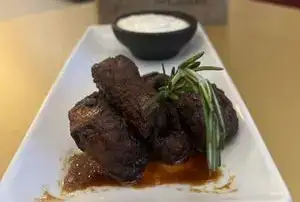 Chop Steakhouse & Bar is a Steak house located in Halifax. Chop Halifax is located inside the Sutton Place Hotel within the landmark Nova Centre development, in the heart of downtown Halifax and walking distance from the waterfront.
Chop Steakhouse & Bar is proud to feature a menu that shares our commitment to sustainable beef sourcing. In fact, we are the first full service national restaurant in Canada with a CRSB Certified Mass Balance mark on all of our beef! Click here to find out more about our Sustainability program.
Location of Chop Steakhouse & Bar

The information displayed here is displayed 'as is', including address, photographs and telephone information. Please check the listed website ( if available ) for up-to-date information, prices and availability. Where to Eat Canada is not responsible for the content of external websites. If you are the owner or operator of Chop Steakhouse & Bar and wish to update or modify the content on this page including room details, specials and getaways or availability, please use our submission page.
Other nearby options close to Chop Steakhouse & Bar include The Millstone Public House located at 250 Baker Drive, Pizza Time Donairs & Subs located at 731 Pleasant Street approximately 2.5 km away, Goldwater Seafoods located at 1209 Marginal Road, Coastal Cook House, and Edna Restaurant approximately 0.5 km away.