Featured Restaurants
Truffle Pigs Bistro & Lodge started out as Truffle Pigs Café, located just across the street in the former Canadian Pacific Railway 'Siding'. Back then, Truffle Pigs operated as the local general store, liquor agency, gift shop and of course a highly spirited bistro!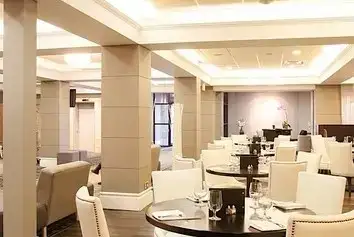 Grande Prairie's most exciting place to eat, drink and lounge, The Office brings a dash of modern style and elegance to the downtown dining scene. Chef Chanaka Amarakoon just launched his latest menu creation showcasing classic comfort food favorites with a sophisticated twist, The Office's innovative menu includes something for every taste. Sample imaginative specialties like Crispy Atlantic Salmon, Smoked Bacon, Apple and Brie Quesadilla or Honey Sesame Glazed Crisp Fried Calamari. Palates trending towards the more traditional will love the Aubergine Dip, perfectly Pan Seared Digby Scallops or our Home Grown Prime Rib. Chef Chanaka also included a selection of gluten free and vegetarian dishes. To complement your dish, a wide variety of beers and cocktails are available. Don't forget our Wine Spectator Award winning wine list with over 125 bottles of wine.
Elma is a Turkish inspired dining experience located in Penticton, BC on beautiful Lake Okanagan. Our big, bright space features tiles, lighting and other décor sourced in our native Turkey and also helps to highlight the scenic back drop around us.
At porta via we select our ingredients from local suppliers with a reputation for quality, sustainability and freshness; We then employ health centered cooking methods which harkens back to a time when food was more than just fuel for the body. We hope you enjoy your porta via meal experience.
Coco Deep Fried Chicken is known for their mouthwatering fried chicken and signature Korean-style hot and sweet sauce. Using only the freshest ingredients, the tastiest of spices, and juiciest chicken pieces, Coco Deep Fried Chicken knows how to satisfy your hunger!