Featured Restaurants
Welcome to Italian Ice Cream. We have been operating our family business since 1978. Come enjoy some gelato, made from our family recipe, coffee, panini, or desserts. Come enjoy yourself and be apart of our family!
Nestled at the edge of Jasper National Park, overlooking the majestic Rocky Mountains, sits the Overlander Mountain Lodge. This jewel in the Canadian Rockies offers spectacular views, gourmet dining and ultra comfortable lodging. Warm hospitality and a casual yet cozy atmosphere are combined here in a mountain setting of unique natural beauty. Our chalet vacation rentals can serve as your home away from home while exploring all the park has to offer. The Lodge provides a variety of accommodation for the perfect Mountain Getaway, where televisions and telephones have been excluded to ensure a peaceful and relaxing stay. When it is time to celebrate, look no further than this cozy Rocky Mountain retreat as an ideal setting for social gatherings, weddings and business groups. The Overlander Mountain Lodge is committed to providing some of the best lodging, food and hospitality in the Canadian Rockies.
The Firehall Cool Bar Hot Grill is located in Bronte in Oakville, Ontario. Famous for their family friendly menu, fun atmosphere and of course world renowned wings!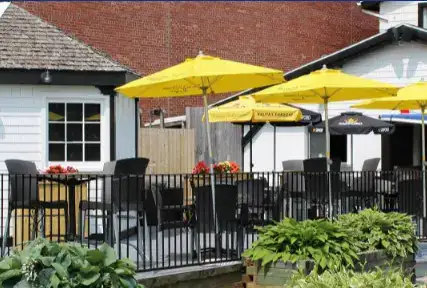 Brakish has an atmosphere that is *unmatched* in Charlottetown. Enjoy a bonfire, drink and beautiful views of the harbourfront from the comfort of our own Brakyard.
BOOMburger keeps it simple by offering Burgers and PEI Fries - made FRESH! We are a local burger concept restaurant that is dedicated to freshness, local quality ingredients and friendly service. Every burger is made to order with 100% fresh Island beef and served on a bun grilled with COWS CREAMERY butter.