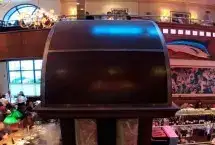 Joe Fortes Seafood & Chop House is a restaurant offering Seafood located in Vancouver. For almost 25 years, Joe Fortes has consistently earned and maintained its reputation as an award-winning dining institution and "Vancouver's Best Oyster Bar.
Guests from the world over have come to expect a dynamic culinary experience in this San Francisco styled seafood grill that always delivers more – more hospitality, more variety, and more buzz.
This iconic Vancouver eatery is conveniently located just off of bustling Robson Street, and is where locals and visitors alike come to enjoy the freshest seafood and chops in town, complemented by an award-winning wine list that boasts over 400 wines, and a uniquely personal level of service and hospitality.
Quality, service and reputation – that's the stuff that legends are made of. And that's what you can look forward to experiencing on each and every visit to Joe Fortes Seafood & Chop House. We look forward to serving you.
Location of Joe Fortes Seafood & Chop House

The information displayed here is displayed 'as is', including address, photographs and telephone information. Please check the listed website ( if available ) for up-to-date information, prices and availability. Where to Eat Canada is not responsible for the content of external websites. If you are the owner or operator of Joe Fortes Seafood & Chop House and wish to update or modify the content on this page including room details, specials and getaways or availability, please use our submission page.
Nearby places to eat include L'Artista Italian Restaurant approximately 4.8 km away, Baci Restaurant, Pondok Indonesia located at 202-950 Broadway West, Anatoli Souvlaki, and Montgomery's Fish & Chips located at 143-123 Carrie Cates Crt.